Update: Samsung has now confirmed its next flagship phone will launch at a tradeshow in February, so there's not long to wait until we see the Galaxy S9.
The Samsung Galaxy S8 hit stores in early 2017, and the company has now confirmed the next generation flagship phone will be launching in the next two months.
The rumors are coming thick and fast for what the new phone will look like and feature, so we've sifted through to bring you the information you need to know about this incoming phone, as well as answering some key questions.
And below all that you'll find our wish list of the various things we most want from Samsung's next flagship.
What's the new Samsung Galaxy S9 news?
DJ Koh, president of Samsung's mobile division, has confirmed the company plans to announce the Galaxy S9 at a tradeshow in February. That heavily suggests we'll see it at MWC 2018.
What will the Samsung Galaxy S9 price be?
We're expecting £639 / $725 / AU$1200 based on current projections, as the Galaxy S9 is likely to come in around the same price as its predecessor. Given we're not expecting massive design changes, we doubt too high a price rise.
What's the Samsung Galaxy S9 release date?
The Galaxy S9 is set to launch in February 2018, but when it'll actually hit shop shelves is a little less clear. We can predict it'll be on sale at some point in March, but we may have to wait a touch longer.

Hottest leaks:
Confirmed to launch at some point in February, probably MWC
Price is unconfirmed, but expect it to be high
President of Samsung's mobile division, DJ Koh, confirmed in an interview with ZDNet that the Galaxy S9 would be ready to launch at a tradeshow at some point in February this year.
There's only one major tradeshow for mobile phones in February, and that's MWC where Samsung has traditionally revealed its flagship handsets.
Samsung took a break from MWC last year to host its own event for the Galaxy S8 launch,  but it looks like the company will probably return to the show in Barcelona for the next generation handset.
That all kicks off on February 26 this year, but Samsung usually goes slightly ahead of the doors opening at the show so we may see it on Sunday February 25.
When the phone will be on sale is less clear, but usually Samsung manages to put its phone on shelves a few weeks after the announcement so hopefully we'll hear about it landing at some point in March 2018.
What we can safely predict is that the Samsung Galaxy S9 is sure to be expensive, as the Galaxy S8 launched at $720, £689, AU$1,199.
Samsung Galaxy S9 screen
Hottest leaks:
An in-screen scanner
A water-repellent coating
The Bell reports unnamed industry sources saying that Samsung has been hard at work on the display panels for the Galaxy S9 since late March 2017. If true, that's apparently about six months earlier than usual.
As for the form the screen will take, it's rumored (and likely) to retain the Galaxy S8's 18.5:9 aspect ratio.
There's also a good chance it will be the same size as the Galaxy S8, coming in at 5.8 inches, though one rumor puts it at 5.65 inches. It's also sure to be curved and continue Samsung's trend of using Super AMOLED, which delivers vibrant visuals and good contrast.
The biggest change could be an in-screen fingerprint scanner, which has been rumored. Notably the new Qualcomm Fingerprint Sensor can sit below quite thick displays, and OLED technology (used in Samsung flagship phones) was specifically mentioned.
Synaptics has also announced an in-screen scanner and mentioned not just OLED but also "infinity display" (which is what Samsung calls the S8's screen) and that it's being used on a phone made by a top five manufacturer.
All of that points to the Samsung Galaxy S9 having fingerprint-sensing technology below the glass.
Then again, one tipster claims an in-screen scanner isn't in the cards, as does another recent report, so don't count on that feature just yet.
Aside from that, in late 2016 Samsung licensed a new glass coating technology that makes water bounce off your smartphone screen. Samsung plans to include this tech in an upcoming phone, so it may mean the Galaxy S9 is much easier to use in the rain. Watch the video below to see how the technology works.
Samsung Galaxy S9 design
Hottest leaks:
Smaller bezels
A repositioned fingerprint scanner
Recently we've seen both a render video and rendered images supposedly showing the Samsung Galaxy S9, and they show a device that looks very similar to the Samsung Galaxy S8, albeit with the fingerprint scanner moved beneath the camera lens (but not in-screen as some rumors have suggested).
The front and back both look to use curved glass, the bezels are small and there's both a 3.5mm headphone port and what's presumably a Bixby button. We've also seen another leak that suggests the phone will keep its 3.5mm headphone jack, unlike the iPhone range.
While you can't tell from these images, the bezels might actually be smaller than on the Galaxy S8, as a source claims the S9 will have around a 90% screen-to-body ratio, up from roughly 84% on the Galaxy S8.
In fact, a leaked image complete with dimensions backs that up, as it suggests that the Galaxy S9 will be marginally shorter than the S8, but will otherwise look similar, albeit with the scanner moved beneath the camera lens, just like in the images above.
A possible alternative could come in the form of a fingerprint scanner built into a notch at the bottom of the screen, a bit like the one on the Essential Phone but at the bottom rather than the top.
That theory is based on a patent which shows exactly that, but patents often don't get used in products, so it may well not happen.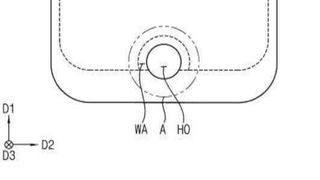 One eagle-eyed  reader noticed the image below on Samsung's own website that seems to show the rear of the Galaxy S9 without a fingerprint scanner next to the camera.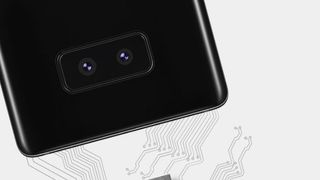 We've taken a look at the website and considering there are so many conceptual images of future Samsung phones on the page detailing the Exynos 9810, we don't believe this is an accurate depiction of the Galaxy S9.
We've also heard that the Galaxy S9 could have a modular design, with magnets on the back letting you attach hardware accessories (which could take the form of battery packs, zoom lenses or any number of other things), a bit like Motorola's Moto Mods.
Only one source has mentioned this possibility so far, so we'd take it with a huge pinch of salt, but it could be a key selling point of the S9 if true.
And a minor design tweak could come in the form of a new color for the Galaxy S9, with the phone supposedly landing in purple.
Recently, we've seen yet another leak of renders claiming to show the phone, which seem believable given what we've heard this far.
TechRadar's take: We'd expect a similar design to the S8, but likely with smaller bezels and a repositioned fingerprint scanner. A modular design is very unlikely.
Samsung Galaxy S9 camera
Hottest leaks:
1,000fps video recording
A 3D face scanner
A single-lens camera
When it comes to the camera, the Samsung Galaxy S9 is rumored to be able to shoot some incredible slow motion video.
Industry sources claim Samsung is working on a rear camera that can shoot at 1,000 frames per second, which would be better than anything on the market in a phone right now. We've also heard more generally that it will have an upgraded camera system.
It's possible there could be differences between the cameras on the S9 and Galaxy S9 Plus though, with one source saying that while the S9 Plus will have a dual-lens snapper, the S9 will just have a single-lens one. The sketch above echos that sentiment, as do some case renders.
On the other hand, a leaked backplate apparently for the Galaxy S9 has a cut-out large enough for two camera lenses. Based on previous leaks it's likely that the lower part of the cut-out will house a fingerprint scanner, but you never know.
Either way, Samsung might offer a new way for you to unlock your phone, with leaker @UniverseIce claiming that the Galaxy S9 will have a '3D sensor front camera'.
Also check:-